California Proposition 64
California Proposition 64, the California Marijuana Legalization Initiative
Posted: October 24, 2016
by Wendy Barnett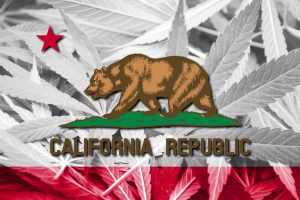 On the Nov. 8, 2016 California General Election ballot is Proposition 64 also known as the Adult use of Marijuana Act.  This measure would legalize the recreational use of Marijuana for adults aged 21 and older.  Adults would be able to grow, possess, and use marijuana for nonmedical purposes with some restrictions.  State agencies would be required to license and regulate marijuana growing businesses. State taxes would be imposed on marijuana sales and cultivation and local regulation and taxation would be allowed.  Prop 64 prohibits marketing and advertising directly to minors and authorizes resentencing and destruction of records for prior marijuana convictions.  The penalties for driving a vehicle while under the impairment of marijuana (which are the same as driving under the influence of alcohol) would remain unchanged by this law.
The California's Voter Information Guide for Nov. 8, 2016 shows what activities are allowed and not allowed if Proposition 64 passes:
Current Law
In California, the use or possession of marijuana is generally illegal.  Possession is punishable by a fine and growing or selling marijuana could result in imprisonment.  In 1996 California legalized the medical use of marijuana in the state even though any marijuana use is currently illegal by Federal law. So far, the Federal government has not pursued enforcing the federal law in California except for certain circumstances such as when related to minors using marijuana or the transportation of marijuana to other states.  State and local sales taxes are currently being collected on medical marijuana and are estimated in the tens of millions of dollars annually.
Fiscal Impact
The fiscal impact from Proposition 64 depends on various variables, but it has been estimated that eventually the state and local agencies could receive tax revenue that ranges from the high hundreds of millions of dollars to over $1 billion annually.  Additional state and local savings are projected from reductions in criminal justice costs in the tens of millions of dollars annually. 
Allocation of Funds
The funds from the new state taxes and fines collected would be first used to pay back state agencies for marijuana regulatory costs and then allocated for specific purposes as indicated by the Nov. 8, 2016  California's Voter Information Guide  table below:
The remaining revenues would be earmarked for specific purposes such as youth programs, environmental protection, and law enforcement.   
Supporters of Prop 64:
California Democratic Party
Green Party of California
California Peace and Freedom Party
American Civil Liberties Union
Blacks in Law Enforcement of America
California Academy of Preventive Medicine
California Council of Churches IMPACT
California Medical Association
California Nurses Association
Marijuana Policy Project of California
Parents for Addiction Treatment & Healing
Opponents of Prop 64:
Californian Republican Party
California Association of Highway Patrolman
California Correctional Supervisors Association
California District Attorneys Association
California Hospital Association
California Narcotic Officers Associations
California Police Chiefs Association
California Peace Officers Association
California State Sheriffs' Association
International Faith Based Coalition
Smart Approaches to Marijuana of Northern CA
Read Proposition 64 full text here
References: Ballotpedia.org, California General Election Nov. 8, 2016 Official Voter Information Guide, California General Election Nov. 8, 2016 Quick Reference Guide